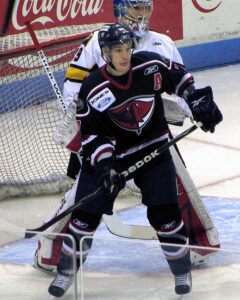 According to nhl.com on Thursday, the Washington Capitals have named Spencer Carbery of Victoria, British Columbia as their new head coach. He spent the last two seasons as an assistant coach for the Toronto Maple Leafs.
Carbery was part of a Maple Leafs coaching staff for a franchise that won its first playoff series since 2004. Toronto beat the Tampa Bay Lightning in six games in the first round of the 2023 Stanley Cup Playoffs.
Carbery never played in the National Hockey League. This will be his first head coaching job at the NHL level.
However, Carbery does have professional head coaching experience. He was the bench boss for the South Carolina Stingrays of the ECHL from 2011 to 2016, the Saginaw Spirit of the Ontario Hockey League from 2016 to 2017, and the had coach of the Hershey Bears of the American Hockey League from 2018 to 2021.
While with the Stingrays in 2014-15, Carbery guided South Carolina to the Kelly Cup Finals. The Stingrays lost in seven games to the Allen Americans. Then in 2020-21, Carbery guided the Hershey Bears to a fabulous regular season record of 24 wins, seven regulation losses, and two losses in overtime for 50 points and a winning percentage of .758. However due to coronavirus, the Bears did not participate in the 2021 Calder Cup Playoffs. Carbery did win the 2021 Louis A.R. Pieri Memorial Award, presented to the American Hockey League coach of the year.
As a player, Carbery spent six seasons in the ECHL. That included time as an assistant captain with the Stingrays.