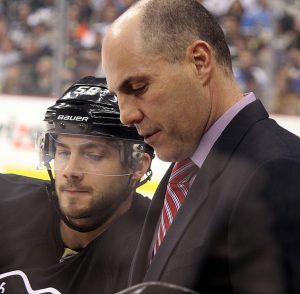 According to James O'Brien of Yahoo! Sports, Rick Tocchet of Scarborough, Ontario was named the new head coach of the Vancouver Canucks on Sunday. Tocchet has previous head coaching experience with the Tampa Bay Lightning from 2008 to 2010, and the Arizona Coyotes from 2017 to 2021. Prior to being the Canucks head coach this season, he was a studio analyst on TNT, alongside fellow Canadian players Wayne Gretzky of Brantford, Ontario, Anson Carter of Toronto, Ontario, and Paul Bissonnette of Welland, Ontario.
In 438 career games as a National Hockey League head coach, Tocchet has a record of 178 wins, 200 regulation losses, and 60 losses in extra time. In 2019-20, Tocchet guided the Coyotes to a Stanley Cup Playoff berth. The Coyotes beat the Nashville Predators three games to one in a best out of five qualifying round before losing to the Colorado Avalanche in five games in the Western Conference quarterfinals.
As a player, Tocchet played 1144 NHL regular season games with the Philadelphia Flyers (1984 to 1992 and 1999 to 2002), the Pittsburgh Penguins (1991 to 1994), the Los Angeles Kings (1994 to 1996), the Boston Bruins (1996 to 1997), the Washington Capitals (1997), and Phoenix Coyotes (1997 to 2000). He had 440 goals and 512 assists for 952 points. Tocchet also won a Stanley Cup with the Penguins as a player in 1992.