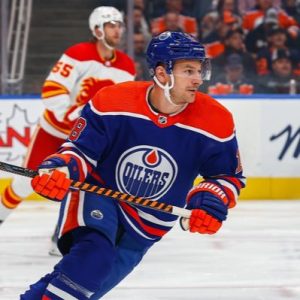 Edmonton Oilers right winger Zach Hyman of Toronto, Ontario was named the National Hockey League First Star of the Week for the week from January 16 to 22. In three games, he had four goals and five assists for nine points and was a +8. Hyman had one power play point, 11 shots on goal, one hit, and one blocked shot.
Hyman had a multi-point game in all three of his games. He had one goal and two assists for three points in a 5-2 Edmonton win over the Seattle Kraken on January 17, two goals in a 5-2 Edmonton win over the Tampa Bay Lightning on January 19, and one goal and three assists for four points in a 4-2 Edmonton win over the Vancouver Canucks on January 21.
In 47 games this season, Hyman has 24 goals and 32 assists for 56 points. He is a +14 with 25 penalty minutes, 18 power-play points, one game-winning goal, 184 shots on goal, four faceoff wins, 14 blocked shots, 50 hits, 25 takeaways and 16 giveaways. Hyman's game-winning goal came on October 29 in a 3-2 Oilers win over the Calgary Flames.
The Oilers have now won six straight games. They have a record of 27 wins, 18 regulation losses and three losses in extra time for 57 points. Despite being in fourth place in the Pacific Division, they are only three points back of the first place Vegas Golden Knights.
It should be noted that the Oilers have the easiest part of their schedule coming up. In their next seven games, they have the five worst teams in the Eastern Conference and the second worst team in the Western Conference.