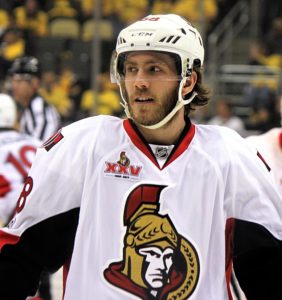 According to Colin Lynch of The Sports Daily on Sunday, two Canadians on the Montreal Canadiens were moved in a blockbuster trade on Sunday in a deal that involved the Canadiens, San Jose Sharks and Pittsburgh Penguins. The Canadian National Hockey League players involved in the deal were centre Rem Pitlick of Ottawa, Ontario, who is now with the Penguins, and forward Mike Hoffman of Kitchener, Ontario, who is now with the Sharks.
Going to Montreal are goaltender Casey DeSmith, defenseman Jeff Petry, prospect Nathan Legare, and Pittsburgh's second round pick in the 2025 NHL Entry Draft. Also going to Pittsburgh are reigning Norris Trophy winner Erik Karlsson, prospect Dillon Hamaliuk, and San Jose's third round pick in the 2026 NHL Entry Draft. Also going to San Jose are centre Mikael Granlund, defenseman Jan Rutta and Pittsburgh's first round pick in the 2024 NHL Entry Draft.
Hoffman, who can play center and left wing, is joining his fifth NHL team. In addition to the Canadiens, he has played with the Ottawa Senators from  2011 to 2018, the Florida Panthers from 2018 to 2020, and the St. Louis Blues in 2020-21. In 67 games with the Canadiens in 2022-23, Hoffman had 14 goals and 20 assists for 34 points. He was a -10 with 28 penalty minutes, 10 power-play points, three game-winning goals, 148 shots on goal, 16 faceoff wins, 24 blocked shots, 24 hits, 19 takeaways, and 41 giveaways,
Pitlick is joining his fourth NHL team. In addition to the Canadiens, he has played with the Nashville Predators in 2018-19, and 2020-21, and the Minnesota Wild in 2021-22. During the 2022-23 season, Pitlick had six goals and nine assists for 15 points in 46 games. He was a -15, with 22 penalty minutes, one power-play point, one shorthanded point, one game-winning goal, 30 shots on goal, 25 faceoff wins, 18 blocked shots, 23 hits, 12 takeaways and 31 giveaways. Pitlick's game-winning goal came in a 3-2 Canadiens win over the Toronto Maple Leafs on January 21, 2023. Ironically, Hoffman picked up the primary assist. Defenseman David Savard of St. Hyacinthe, Quebec picked up the other assist at 2:14 of overtime which broke a 2-2 deadlock.