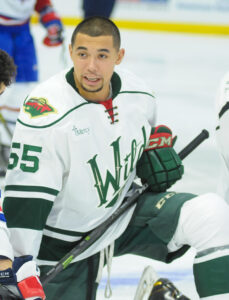 According to Elliotte Friedman of Rogers Sportsnet on Sunday, the Arizona Coyotes have signed defenseman Mathew Dumba of Regina, Saskatchewan to a one-year deal worth $3.9 million. The Coyotes are the second National Hockey League franchise Dumba has played for. He was previously with the Minnesota Wild from 2013 to 2023.
In 79 games in 2022-23, Dumba had four goals and 10 assists for 14 points. He was a -8 with 81 penalty minutes, two game-winning goals, 99 shots on goal, 116 blocked shots, 104 hits, 17 takeaways, and 35 giveaways. Dumba's game-winning goals this past season came in a 4-1 Wild win over the Anaheim Ducks on November 9, 2022 and in a 4-1 Wild win over the Detroit  Red Wings on December 14, 2022. In the win over the Ducks, Dumba scored from centres Connor Dewar of Gilbert Plains, Manitoba and Mason Shaw of Lloydminster, Alberta in an all-Canadian goal at 1:41 of the third period, which put the Wild up 2-1 at the time. In the win over the Red Wings, Dumba scored from left winger Jordan Greenway and forward Joel Eriksson Ek at 8:02 of the second period, which put Minnesota up 2-0 at the time.
While with the Wild, Dumba won the King Clancy Award in 2019-20. The award is presented to the player that shows leadership qualities on and off the ice, and makes significant humanitarian contributions in the community.