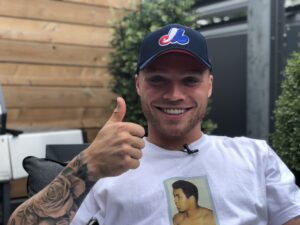 The Montreal Canadiens traded left winger Max Domi of Winnipeg, Manitoba to the Columbus Blue Jackets on Tuesday for right winger Josh Anderson of Burlington, Ontario according to Stu Cowan of the Montreal Gazette. In addition to Domi, the Blue Jackets received a third round pick in the 2020 National Hockey League Entry Draft.
Domi played all 71 games for the Canadiens in 2019-20. He had 17 goals and 27 assists for 44 points. He was a -3 with 35 penalty minutes, 11 power play points, three game winning goals, 179 shots on goal, 385 faceoff wins, 13 blocked shots, 32 hits, 42 takeaways and 64 giveaways. The Blue Jackets become Domi's third National Hockey League team. In addition to the Canadiens, he has played for the Arizona Coyotes.
Anderson only played 26 games in 2019-20 due to shoulder surgery. In 26 games, he had one goal and three assists for four points. He was a -8 with 17 penalty minutes, 63 shots on goal, seven faceoff wins, 13 blocked shots, 68 hits, nine takeaways and 12 giveaways.
The Blue Jackets will receive the 78th pick. It is interesting that the the Canadiens sent a draft pick to Columbus with Anderson, and the Canadiens did not get a draft pick in return. Domi seems to be the better player, as he had a career high 72 points in 2018-19, while Anderson only has a career high of 47 points.