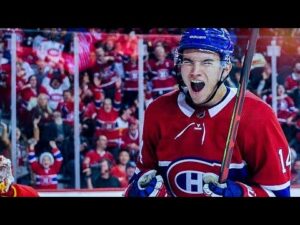 The Montreal Canadiens are one win away from reaching the 2021 Stanley Cup Finals. On Tuesday, the Canadiens defeated the Vegas Golden Knights 4-1 in game five of the Stanley Cup semifinals. With the win, the Canadiens now lead the best out of seven series three games to two.
Two Canadians on the Canadiens had multi-point games. Nick Suzuki of London, Ontario had one goal and two assists for three points. Meanwhile, Tyler Toffoli of Scarborough, Ontario had two assists. The other Canadiens goal scorers were Canadian Olympic gold medalist Eric Staal of Thunder Bay, Ontario, Jesper Kotkaniemi, and Cole Caufield. Staal won an Olympic gold for Canada at the 2010 Olympic Winter Games in Vancouver.
Suzuki meanwhile set a career-high in playoff points for a single game. In the regular season, Suzuki has had three points in a single game thrice. He had three assists in a 6-5 Canadiens loss to the Florida Panthers on December 29, 2019, two goals and one assist in a 5-3 Canadiens win over the Winnipeg Jets on April 30, 2021, and three assists in a 3-2 Canadiens win over the Toronto Maple Leafs on May 3, 2021.
Game six of the series returns to Montreal on Thursday. In the other Stanley Cup semifinal, the Tampa Bay Lightning lead the New York Islanders three games to two.