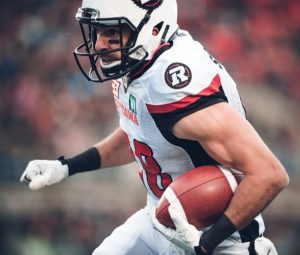 Ottawa Redblacks wide receiver Brad Sinopoli of Peterborough, Ontario retired on Wednesday at the age of 33 according to CBC News. An all-star in 2018, Sinopoli spent four seasons with the Calgary Stampeders from 2011 to 2014, and then five seasons with the Redblacks from 2015 to 2019.
In 139 regular season games, Sinopoli had 509 catches for 5741 yards and 19 touchdowns. His best season came with the Redblacks when he had career highs in catches (116), and receiving yards (1376). Sinopoli also tied a career-high in touchdown catches with four as he also had four touchdown catches while with Ottawa in 2016.
Even though Sinopoli spent four seasons in Calgary, and won a Grey Cup with the Stampeders in 2014, it is with Ottawa when Sinopoli's career took off. For four straight years from 2015 to 2018, Sinopoli reached 1000 yards receiving. In 2015 and 2018, Sinopoli was the top Canadian in the Canadian Football League, and in 2016, was the most valuable player of the Grey Cup as the Redblacks defeated the Stampeders 39-33.  Sinopoli won the Dick Suderman Trophy presented to the top Canadian in the Grey Cup. Sinopoli had seven catches for 94 yards and one touchdown.
Prior to playing in the CFL, Sinopoli had an outstanding university career with the Ottawa Gee-Gees as their quarterback. In four seasons from 2007 to 2010, he completed 398 passes in 674 attempts for 5780 yards, 39 touchdowns, and 22 interceptions. In his final season with the Redblacks in 2010, he won the Hec Crighton Trophy as the top Canadian university football player.