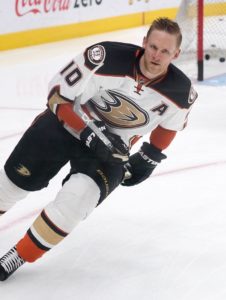 The Montreal Canadiens have acquired center Matthieu Perreault of Drummondville, Quebec in free agency, but lost Canadian Olympic gold medalist Corey Perry of Peterborough, Ontario, who signed with the Tampa Bay Lightning. On Thursday, Perreault signed a one-year contract with the Canadiens worth $950,000, according to Kayla Douglas of The Score, while Perry signed a two-year deal worth $2 million with the Lightning.
Perreault is joining his fourth NHL team. He has previously played four seasons with the Washington Capitals, one season with the Anaheim Ducks, and the last seven seasons with the Winnipeg Jets. The 33-year-old played his junior hockey with the Acadie-Bathurst Titan of the Quebec Major Junior Hockey League. Last season he had nine goals and 10 assists for 19 points in 56 games with the Jets. He was a +6 with 16 penalty minutes, four power-play points, 57 shots on goal, five faceoff wins, 18 blocked shots, 84 hits, 15 takeaways, and 18 giveaways.
Perry, who won a gold medal for Canada at the 2010 Olympic Winter Games in Vancouver, and the 2014 Olympic Winter Games in Sochi, is also joining his fourth NHL team. In addition to playing for the Canadiens, Perry has played for the Anaheim Ducks and Dallas Stars. Last season in Montreal, Perry had nine goals and 12 assists for 21 points in 49 games. He was a -4 with 39 penalty minutes, seven power-play points, one game-winning goal, 62 shots on goal, 15 blocked shots, 56 hits, 15 takeaways, and 16 giveaways. In 2007 with the Ducks, Perry won a Stanley Cup. Four years later in Anaheim, he won the Hart Trophy and Rocket Richard Trophy (led the NHL with 50 goals).