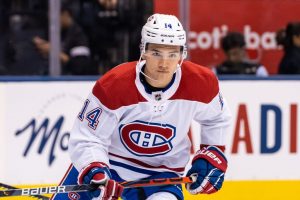 The Montreal Canadiens have named 23-year-old center Nick Suzuki of London, Ontario team captain. According to the Canadian Press, Suzuki is the youngest captain in the history of the Canadiens franchise.
Suzuki becomes the 31st captain in Canadiens' franchise history and the first since 2020-21 when two-time Canadian Olympic gold medalist Shea Weber of Sicamous, British Columbia was team captain. Weber won the gold medal for Canada at the 2010 Olympic Winter Games in Vancouver and the 2014 Olympic Winter Games in Sochi.
In 2021-22, Suzuki had 21 goals and 40 assists for 61 points in 82 games. He was a -29 with 30 penalty minutes, 20 power-play points, three shorthanded points, four game-winning goals, 699 faceoff wins, 62 blocked shots, 89 hits, 50 takeaways and 71 giveaways. Also this past season, Suzuki led the Canadiens in assists, points, power-play points, shorthanded points, and faceoff wins.
Still, the announcement of Suzuki as captain may be a surprise to some when he struggled mightily defensively this past season. His -29 was the worst on the team, and it is clear Suzuki needs to improve his game in his own end. Suzuki also had 21 more giveaways than takeaways in 2021-22. By being captain, especially in the hockey hot bed of Montreal, there is added responsibility, and it will be interesting to see if Suzuki, who has only three years of NHL experience under his belt, will perform at a high level with the added pressures.