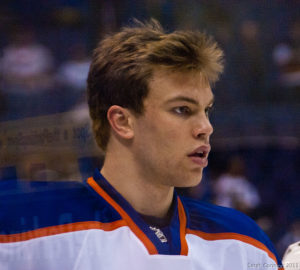 The 2018 NHL Awards took place at the Hard Rock Hotel and Casino in Las Vegas, Nevada on Wednesday, and seven Canadians came away with an award. On the list were New Jersey Devils left winger Taylor Hall of Calgary, Alberta (Hart), Edmonton Oilers center Connor McDavid of Richmond Hill, Ontario (Ted Lindsay), Vegas Golden Knights head coach Gerard Gallant of Summerside, Prince Edward Island (Adams), New York Islanders center Mathew Barzal of Coquitlam, British Columbia (Calder), Golden Knights defenseman Deryk Engelland of Edmonton, Alberta (Messier), Golden Knights general manager George McPhee of Wallaceburg, Ontario (general manager) and the late Humboldt Broncos head coach Darcy Haugan of Peace River, Alberta who won the first ever Willie O'Ree Community Hero Award.
In winning the Hart Trophy, Hall becomes the first New Jersey Devil to win the award. He had 39 goals and 54 assists for 93 points in 76 games.
McDavid becomes the first player in the NHL to win the Art Ross Trophy and Ted Lindsay Award in back-to-back seasons since Jaromir Jagr of the Pittsburgh Penguins accomplished the feat in 1999 and 2000. The only other two players to accomplish that feat were Edmonton Oilers center Wayne Gretzky of Brantford, Ontario (1982-1985) and Montreal Canadiens right winger Guy Lafleur of Thurso, Quebec (1976-1978).
Barzal had 22 goals and 63 assists for 85 points. He became the fifth Islanders player to win the Calder. Barzal joins Denis Potvin of Ottawa, Ontario (1974), Bryan Trottier of Val Marie, Saskatchewan (1976), Mike Bossy of Montreal, Quebec (1977) and Bryan Berard (1997).
Gallant and McPhee were the masterminds of the Golden Knights' magnificent season. As an expansion franchise, Vegas shattered all records for a first year team, including most points in a season with 109. Engelland was honoured for the exemplary leadership he displayed with the Golden Knights around the October 1 tragedy in Nevada.