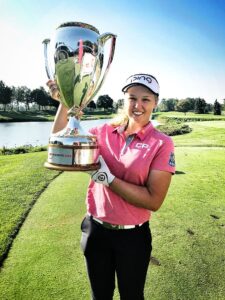 According to the Canadian Press on Wednesday, the 2021 Canadian Women's Open at the Shaughnessy Golf and Country Club in Vancouver, British Columbia has been cancelled due to coronavirus. This is the second straight year there has been a cancellation.
It is very difficult to hold the tournament in Canada at this time due to the fact the Canadian/American border remains closed. Canada has hosted international sporting events in curling this past year, and will be hosting the 2021 Women's World Hockey Championship. These events are able to happen because the athletes have been able to self-isolate for 14 days before the competition commences.
However, it is difficult for the world's best female golfers to self isolate for 14 days when the British Women's Open at Carnoustie takes place just the weekend before. There was a time in women's golf that the Canadian Women's Open was a major, and the British Women's Open was not. However, in 2001, the Canadian Women's Open lost its major status when duMaurier Cigarettes were no longer allowed to be the advertiser due to a change in Canadian federal advertising laws. The new regulations also impacted the Canadian Grand Prix in Montreal and the Canadian tennis championships in Toronto and Montreal.