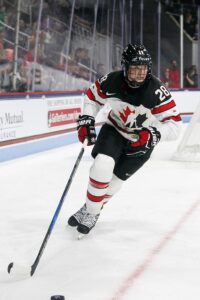 The majority of players who won gold for Canada at the 2021 Women's World Hockey Championship in Calgary will participate at the 2022 Olympic Winter Games in Beijing. There were three notable cuts from the roster at the World Championship as forward Victoria Bach of Milton, Ontario, forward Kristin O'Neill of Mississauga, Ontario. and defender Jaime Bourbonnais will not be on the Canadian Olympic team. However, one new face was announced on Tuesday, as Micah Zandee-Hart of Saanichton, British Columbia was added.
At 24 years of age, Zandee-Hart won a bronze medal for Canada at the 2019 Women's World Hockey Championship in Espoo, Finland. She played her collegiate career at Cornell University at the National Collegiate Athletic Association level where she had 17 goals and 70 assists for 87 points in 125 games. Known for her leadership, Zandee-Hart was the captain for Canada at the 2015 International Ice Hockey Federation World Women's Under-18 Hockey Championship in Buffalo, and the captain at Cornell University in her final year at the NCAA level in 2019-20.
There was also one more notable cut made by Team Canada on Tuesday. It was announced that defenseman Meaghan Mikkelson would not be on the team. Mikkelson had knee surgery this past June after an injury during a game this past May. It was also announced that Marie-Philip Poulin of Beauceville, Quebec would be the Canadian captain at the Beijing Olympics. Mikkelson and Poulin won gold for Canada at the 2010 Olympic Winter Games in Vancouver and the 2014 Olympic Winter Games in Sochi.