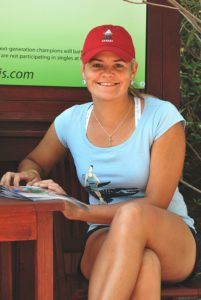 Canadian tennis star Aleksandra Wozniak of Montreal, Quebec has retired from the sport at age 31. Wozniak made the announcement on Wednesday.
Wozniak won the 2009 Bobbie Rosenfeld Award, which is presented annually to the best Canadian female athlete. That year she reached the fourth round of the French Open (her best ever result at a grand slam event), where she lost to Serena Williams of the United States 6-1, 6-2. In reaching the fourth round, Wozniak beat Monica Niculescu of Romania, Petra Martic of Croatia, and Lourdes Dominguez Lino of Spain.
Also in 2009, Wozniak reached the final of the MPS Group Championship in Ponte Vedra Beach, Florida, where she lost to Caroline Wozniacki of Denmark 6-1, 6-2. Wozniak also beat three top 10 players in 2009. She beat Nadia Petrova of Russia 6-4, 4-6, 6-2 in the semifinals of Ponte Vedra, Svetlana Kuznetsova of Russia 6-0, 6-3 in the first round of Eastbourne and Wozniacki in the second round of the Japan Open.
Wozniak also beat Serena Williams one time in her career. She delivered the upset in the semifinals of the 2008 Bank of the West Classic in Stanford, California. Wozniak would go on to beat future Wimbledon champion Marion Bartoli of France 7-5, 6-3 in the final for her first and only WTA title.
Wozniak reached one other WTA Final in her career. That came in 2007 where she lost 6-1, 6-3 to Milagros Sequera of Venezuela in the finals of the Morocco Open.
Wozniak's best world ranking was 21st in the world. She achieved that mark in 2009, making her the fourth highest ranked Canadian on the WTA Tour of all-time. Wozniak trails Eugenie Bouchard of Montreal, Quebec (fifth), Carling Bassett-Seguso of Toronto, Ontario (eighth) and Helen Kelesi of Richmond, British Columbia (13th).