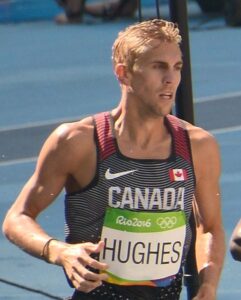 According to Doug Harrison of CBC Sports on Wednesday, Canadian long-distance runner Matt Hughes of Oshawa, Ontario has resumed training for the 2020 Olympic Games in Tokyo in 2021, after testing positive for coronavirus while in Arizona earlier this year. Hughes, who is 31 years of age. won the gold medal for Canada in the men's 3000-metre steeplechase at the 2015 Pan American Games in Toronto.
At the time of the positive test for coronavirus, Hughes was living with his agent, his girlfriend, and an Irish runner. According to Harrison, the Irish runner was not taking coronavirus seriously as there were pictures of him attending night clubs in Arizona at the time. Hughes's agent, but not his girlfriend also got coronavirus.
Canada has never won a medal in steeplechase in the history of the Olympic Games. Even though Hughes is the Pan American champion from six years ago, he is unlikely a medal contender in Tokyo this summer, as he only placed 10th at the 2016 Olympic Games in Rio de Janeiro and 14th at the 2019 International Association of Athletics Federations World Athletics Championships.
In addition to his Pan American Games gold medal, Hughes won two gold medals for the University of Louisville at the National Collegiate Athletic Association Track and Field Championships in men's steeplechase in 2010 and 2011. There have been 860,772 cases of coronavirus in the American state of Arizona and 17,282 deaths.