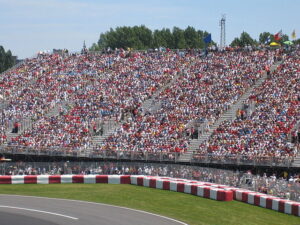 The 2021 Canadian Grand Prix at the Circuit Gilles Villeneuve in Montreal, Quebec has been cancelled again because of coronavirus according to the Canadian Press. The 2020 Canadian Grand Prix was also cancelled due to the pandemic. The annual Formula One race in Montreal is considered one of the most prestigious auto races in Canada on an annual basis.
Even though the 2021 race has been cancelled, Formula One announced that the Canadian Grand Prix will remain in Montreal until 2031, as there was an extension to the original contract by two years. The race was supposed to take place this year on June 13.
The Canadian Grand Prix is the only Formula One race that has been cancelled due to coronavirus. The reason is because of the tight travel restrictions that require everyone entering Canada to self-isolate for 14 days. Due to the fact there was a Formula One race in Baku, Azerbaijan on June 6, it made hosting the Canadian Grand Prix impossible at that time.
The Canadian Grand Prix was also not moved to the fall when more Canadians will be vaccinated. The Australian Grand Prix was moved from March 21 to November 21. Meanwhile, the Chinese Grand Prix has just been postponed at this time after an original date of April 11. The Canadian Grand Prix has been replaced on the schedule by the Turkish Grand Prix.
There have been 347,690 cases of coronavirus in Quebec. There have also been 10,908 deaths.