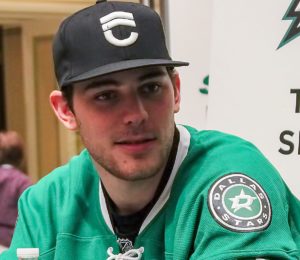 Tyler Seguin of Brampton, Ontario led the Dallas Stars in scoring on Wednesday as the Stars defeated the St. Louis Blues 4-2 in game four of their Western Conference second round playoff series from Dallas, Texas. Seguin was one of three Stars to have a multi-point game as he had two assists. The others were Alexander Radulov (the former Montreal Canadien) and Mats Zuccarello. With the win, the Stats evened their best out of seven series at two games apiece.
Seguin recorded his first point with an assist on a goal by Jason Dickinson of Georgetown, Ontario at 11:23 of the first period, which at the time tied the game at one. He then picked up an assist on the Stars' game winning goal by John Klingberg at 9:26 of the second period, which put the Stars up 3-1. Jason Spezza of Mississauga, Ontario also scored for the Stars in the game.
In other action on Wednesday, the Carolina Hurricanes took a commanding three games to none series lead over the New York Islanders with a convincing 5-2 victory in game three of their second round Eastern Conference playoff series. Justin Williams, the Hurricanes captain and three-time Stanley Cup champion, scored the game winning goal from Sebastian Aho. Williams, a native of Cobourg, Ontario, achieved the marker at 10:10 of the third period, which at the time broke a 2-2 tie.