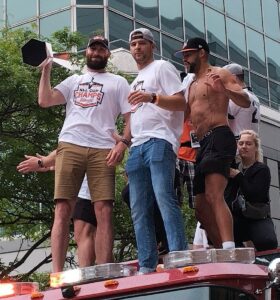 Team Canada won the silver medal at the 2023 World Men's Lacrosse Championships from Snapdragon Stadium at San Diego State University in San Diego, California. In the championship playoff bracket, Canada defeated Haudenosaunee 12-7 in the semifinals before losing 10-7 to the United States in the gold medal game. Haudenosaunee defeated Australia 11-6 in the bronze medal game.
In the semifinals on Thursday, Canada was led in scoring by Dhane Smith of Kitchener, Ontario, who had three goals and one assist for four points. The silver medal came after Smith won the National Lacrosse League Cup Championship with the Buffalo Bandits last month. It was a record-breaking NLL season for Smith as he set the regular season record for most assists in a season with 96 and was also named the NLL Cup most valuable player. In three games for Buffalo, he had nine goals and 14 assists for 23 points. Meanwhile a second Canadian registered a hat trick on Thursday as Dyson Williams of Oshawa, Ontario scored thrice.
The United States and Canada have dominated the World Men's Lacrosse Championships over the years. The United States have won 11 times and Canada has won thrice. It was the third medal for Haudenosaunee, as they previously won in 2014 and 2018.