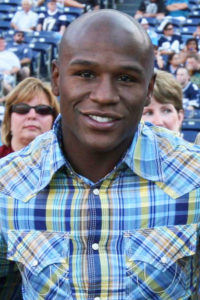 During what could be considered the biggest boxing match of 2017, (possibly in 20 years), there was very interesting Canadian content while Floyd Mayweather of the United States and Conor McGregor of Ireland were fighting in the super welterweight division in Las Vegas on Saturday. That is because the play-by-play broadcaster for Showtime was Mauro Ranallo of Abbotsford, British Columbia.
Ranallo, is 47 years of age, and is very experienced when it comes to the mixed martial arts, boxing and kickboxing scene. He has also been involved with WWE and New Japan Pro Wrestling.
Before Ranallo made it big in the United States, he was seen regularly on the Canadian sports channels of TSN and The Score. Ranallo's voice could also be heard a decade ago on the Calgary airwaves on the FAN 960. He was the Saturday morning sports anchor and would follow my overnight shift for the network.
In terms of the fight itself, Mayweather beat McGregor in ten rounds. With the victory, McGregor improved to 50 wins and zero losses, and after his victory, announced his retirement from professional boxing. An Olympic bronze medalist in the featherweight division from the 1996 Olympic Games in Atlanta, Mayweather will be remembered as one of the best welterweight boxers of all-time.