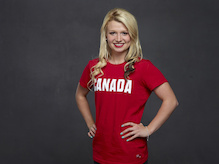 Kirsten Moore-Towers of St. Catharines, Ontario and Michael Marinaro of Sarnia, Ontario won the bronze medal in pairs figure skating at the International Skating Union Grand Prix event in Beijing, China on Saturday. Moore-Towers and Marinaro posted a career best score of 194.52 points.
Moore-Towers and Marinaro reached the podium by 4.27 points. Nicole Della Monica and Matteo Guarise of Italy finished in fourth place with a score of 190.25 points. The gold and silver medalists were each from China. Wenjing Sui and Cong Han of China won the gold medal with 231.07 points and Xiaoyu Yu and Hao Zhang of China won the silver medal with 205.54 points.
The other champions on the weekend were Mikhail Kolyada of Russia (men's), Alina Zagitova of Russia (women's) and Gabriella Papadakis and Guillaume Cizeron of France (ice dance). Zagitova is only 15 years of age and continues the greatness of Russian teenage girls who dominate women's individual figure skating.
Over the last few years, Moore-Towers and Marinaro have progressed in pairs figure skating. However it is unfortunate that Moore-Towers split up with her old partner, Dylan Moscovitch of Toronto. Moore-Towers and Moscovitch would have been medal contenders for the 2018 Olympic Winter Games in Pyeongchang after helping Canada win a silver medal in the team competition at the 2014 Olympic Winter Games in Sochi. However after Sochi, Moore-Towers and Moscovitch decided to split, their current partners have tended to struggle. Moscovitch's partner, Liubov Ilyushechkina, for example, had a disastrous Skate Canada in Regina last month.
Meanwhile, Patrick Chan of Ottawa has decided not to compete during the rest of the ISU Grand Prix season after finishing fourth at Skate Canada in the men's competition. Chan's focus will now be the Canadian Tire National Skating Championships in Vancouver this January.