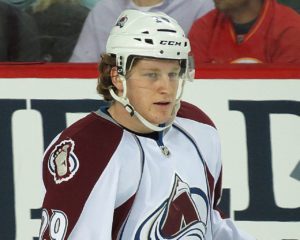 The Colorado Avalanche have advanced to the second round of the 2019 Stanley Cup Playoffs. On Friday at the Scotiabank Saddledome in Calgary, Alberta, Nathan MacKinnon of Springhill, Nova Scotia and Tyson Barrie of Victoria, British Columbia each recorded three assists as the Colorado Avalanche beat the Calgary Flames 5-1 to win their best out of seven first round playoff series four games to one.
MacKinnon and Barrie notched assists on goals by Gabriel Landeskog, Colin Wilson and Mikko Rantanen. Wilson's and Rantanen's goals came on the power play.
It was a marvelous five game series for MacKinnon. In five games, he had three goals and five assists for eight points.
Colorado also becomes the second eighth seed to beat a first seed in the 2019 Stanley Cup playoffs. The Columbus Blue Jackets became the first NHL team in history on Tuesday to enter the playoffs as the eighth seed and sweep the number one seed when they eliminated the Tampa Bay Lightning. It is also the first time ever since the NHL had 16 teams make the playoffs (in 1980), that the top seed in each conference was eliminated in the first round.
The Avalanche now have some time to rest and are waiting to see who their opponent will be in the second round. That is because the San Jose Sharks and Vegas Golden Knights are going to a seventh game on Tuesday night as their series is tied at three games apiece. Colorado won two of three meetings this year against Vegas and lost all three games against the Sharks.