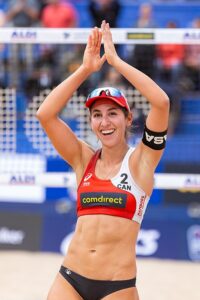 Team Canada won its first two games of the Elite 16 Women's Beach Volleyball Professional Tour event in Ostrava, Czechia on Thursday. The Canadian team comprised of Melissa Humana-Paredes and Brandie Wilkerson of Toronto, Ontario.
In Canada's first game, Humana-Paredes and Wilkerson defeated Tanja Huberli and Nina Brunner 21-17, 21-18. In Canada's second game, Humana-Paredes and Wilkerson defeated Barbora Hermannova and Marie-Sara Stochlova of Czechia 21-15, 21-17. Canada's second win of the day was significant when considering the fact that they did not have the crowd support. It was a home game for Czechia.
In Canada's win over Switzerland, Wilkerson led all players with 20 points. She had 14 attack points, three block points, and three aces. In Canada's win over the Czechia, Humana-Paredes led all players with 18 points, as all 18 points came from the attack.
Canada is one of two teams in the tournament with a record of two wins and zero losses. The other team is Terese Cannon and Sarah Sponcil of the United States. Canada closes out Pool D action on Friday against Brazil's Agatha and Rebecca.
Humana-Paredes and Wilkerson have made the quarterfinals at two Elite 16 events already this year. They reached the final eight in Doha, Qatar back in February, but lost 21-18, 21-19 to Katja Stam and Raisa Schoon of the Netherlands. Then in Tepic, Mexico in March, they reached the quarterfinals again, but this time lost 21-10, 19-21, 15-7 to Marta Menegatti and Valentina Gottardi of Italy.