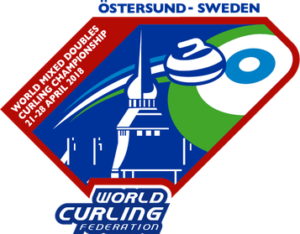 Team Canada won the bronze medal on Saturday at the 2018 World Mixed Doubles Curling Championships in Oestersund, Sweden.The Canadian team of Laura Crocker of Edmonton, Alberta and Kirk Muyres of St. Gregor, Saskatchewan defeated the South Korean team of Jang Hye-ji and Lee Ki-jeong 8-3 in the third place game.
Team Canada took control in the fourth end with a deuce to take a 3-2 lead. The deuce was followed by a steal of one in the fifth end and four points in the seventh end. Canada got revenge against South Korea after losing to them 8-5 on Thursday to close out the round robin.
The Canadians entered the playoffs with a 6-1 record and the sixth seed. They defeated the Czech Republic 8-6 in the round of 16 and Turkey 7-4 in the quarterfinals before losing 7-5 to Switzerland in the semifinal.
The Switzerland team of Michele Jaggi and Sven Michel defeated the Russian team of Maria Komarova and Danill Goriachev 9-6 in the gold medal game on Saturday. Michel, who skipped Switzerland to a 2013 European Men's Curling Championship in Stavanger, Norway, now has won two World Mixed Doubles Curling Championship titles. Michel was previously on the Switzerland team with Alina Patz that won the 2011 World Mixed Doubles Curling Championship in St. Paul, Minnesota.
This was also Switzerland's second straight World Mixed Doubles Curling Championship and seventh overall. They previously won in 2008, 2009, 2011, 2012, 2014 and 2017. The 2017 title took place on Canadian ice as Jenny Perret and Martin Rios won in Lethbridge, Alberta.