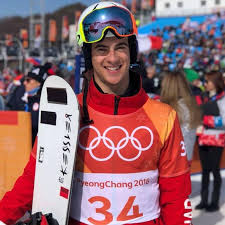 According to Chloe Morrison of the Canadian Olympic Committee on Sunday, Eliot Grondin of Levis, Quebec won the bronze medal in a World Cup men's snowboard cross event in Krasnoyarsk, Russia. For Grondin, it was his fifth World Cup medal, and second this season.
Grondin initially won the eighth first round elimination heat. That was followed by a victory in the fourth quarterfinal heat, and a first place finish in the second semifinal heat. Grondin then placed behind gold medalist Martin Noerl of Germany and silver medalist Jakob Dusek of Austria in the big final.
In the men's World Cup snowboardcross standings, Grondin is in fourth place with 214 points. Alessandro Haemmerle of Austria and Noerl each lead with 286 points. Dusek is in third place with 270 points.
Grondin's first World Cup podium placement this season came on December 18 in Cervinia, Italy where he won the silver medal. Grondin also won the silver medal in Big White, British Columbia on January 25, 2020, a silver medal in Chiesa in Valmalenco, Italy on January 23, 2021, and a gold medal in Bakuriani, Georgia on March 4, 2021. The bronze medal for Grondin in Krasnoyarsk, Russia will give him confidence as he prepares for the 2022 Olympic Winter Games in Beijing.