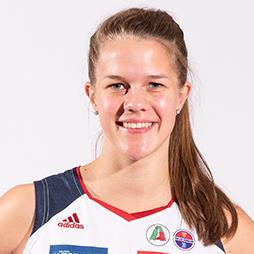 Team Canada has improved to a record of two wins and two losses at the Women's Olympic Volleyball Qualification Tournament in Ningbo, China. On Wednesday, Canada beat China in five sets, 28-26, 15-25, 25-23, 22-25, 17-15.
Four Canadians reached double digits in points. They were outside hitter Kiera Van Ryk of New Westminster, British Columbia (26 points), captain and outside hitter Alexa Gray of Lethbridge, Alberta (24 points), middle blocker Emily Maglio of Cranbrook, British Columbia (20 points), and outside hitter Hilary Howe of Calgary, Alberta (13 points). All of Van Ryk's 26 points came from the attack. Maglio had a very impressive nine block points (including one on the game winning point), while Maglio, Howe, and Jazmine White of Oshawa, Ontario all led Canada with one ace.
Serbia currently leads the Pool A standings with a perfect record of four wins and zero losses. China, the Netherlands and the Dominican Republic are tied for second with a record of three wins and one loss, with Canada in fifth place. The only losses China and the Netherlands have had in the tournament to date are against Canada. Canada's remaining games are against Czechia (1-3), Ukraine (0-4), and Mexico (0-4). Canada is still in the thick of things to finish in the top two and get one of those Olympic qualifying spots, but will probably have to win out. Canada next plays Ukraine in Nibgbo on Thursday evening at 11 PM Mountain time.