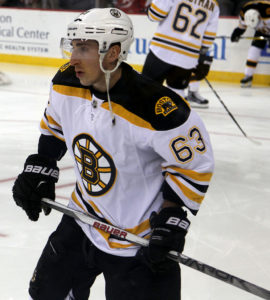 According to the Associated Press on Wednesday, the Boston Bruins have named Brad Marchand of Halifax, Nova Scotia their team captain. He becomes the 27th captain in Bruins franchise history, and the 26th Canadian captain.
In 2022-23, Marchand had 21 goals and 46 assists for 67 points in 73 games. He was a +27 with 74 penalty minutes, 29 power-play points, four game-winning goals, one shorthanded point, 183 shots on goal, 22 faceoff wins, 22 blocked shots, 81 hits, 42 takeaways, and 84 giveaways. Marchand's shorthanded point was a shorthanded assist in a 6-5 Bruins win over the Seattle Kraken on February 23. The goal was by Canadian Olympic gold medalist Patrice Bergeron of L'Ancienne-Lorette, Quebec at 17:51 of the second period which put Boston up 4-3 at the time. Bergeron won a gold medal for Canada at the 2010 Olympic Winter Games in Vancouver and the 2014 Olympic Winter Games in Sochi. 
In 947 NHL games, Marchand has 372 goals and 490 assists for 862 points. He was a +290 with 973 penalty minutes, 208 power-play points, 54 shorthanded points, four game-winning goals, 2410 shots on goal, 239 faceoff wins, 312 blocked shots, 843 hits, 606 takeaways and 780 giveaways. Marchand has been with the Bruins since 2009, and was part of the team that won the Stanley Cup over the Vancouver Canucks in 2011. In 2013-14, he led the National Hockey League with five shorthanded goals. He has also represented the Bruins at the 2017 and 2018 NHL All-Star Game.