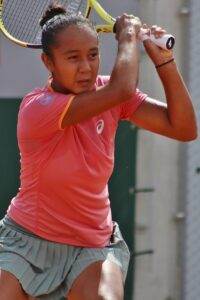 Leylah Annie Fernandez of Montreal, Quebec is in the third round of the 2023 Guadalajara Open in Mexico. On Tuesday, the 2021 United States Open finalist upset the 13th seed, Elise Mertens of Belgium, 6-3, 6-4. Mertens is a grand slam semifinalist from the past as she made the final four at the 2018 Australian Open.
On Tuesday, Fernandez benefitted by the fact that Mertens was battling a shoulder ailment. Mertens's shoulder problem seemed to impact her serve, where she had eight double faults. Fernandez meanwhile showed significant poise, and controlled the match after Mertens called a medical timeout.
In the third round on Wednesday, Fernandez will face Emma Navarro of the United States. Fernandez is currently 74th in the world, and Navarro is 49th in the world. Head-to-head, Fernandez has already beaten Navarro in a main draw event in 2023. She was victorious 6-2, 6-4 in the second round in Indian Wells. However, Navarro should enter the match with momentum too. In the second round, Navarro beat 2017 United States Open finalist Madison Keys of the United States, 6-2, 7-6.
Fernandez meanwhile has had great success in Mexico in the past. Both of her WTA titles have come in Monterrey. In 2021, she beat Viktorija Golubic of Switzerland in the final, 6-1, 6-4. In 2022, Fernandez beat Camila Osorio of Colombia in the final, 6-7, 6-4, 7-6.