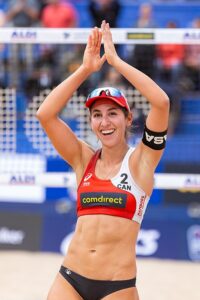 Team Canada is in the semifinals of the Elite16 Women's Beach Volleyball Professional Tour event in Ostrava, Czechia. On Saturday in the quarterfinals, the Canadian team comprised of Melissa Humana-Paredes and Brandie Wilkerson of Toronto, Ontario beat the American duo of Kristen Nuss of New Orleans, Louisiana and Taryn Kloth of Sioux Falls, South Dakota 21-19, 13-21, 15-12.
Of Canada's 49 points in the match, Humana-Paredes had 30 points. She had 29 points from the attack and one ace. Wilkerson had 10 points. She had nine points from the attack and one from a blocked shot.
Canada will next face another American team in the semifinals on Sunday. Their opponents will be another American team, in Sarah Sponcil of Phoenix, Arizona, and Terese Cannon of Pittsford, New York.
Humana-Paredes and Wilkerson have been undefeated in the tournament to date. They have a perfect record of four wins and zero losses. In addition to beating Nuss and Kloth in the quarterfinals, they beat teams from Switzerland, Czechia and Brazil in Pool D play.
The other women's semifinal on Sunday will have Ana Patricia and Duda of Brazil versus Nina Brunner and Tanja Huberli of Switzerland. Humana-Paredes and Wilkerson actually beat Brunner and Huberli in straight sets 21-17, 21-18 on Thursday.