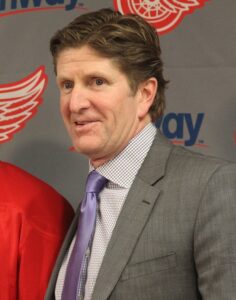 According to Michael Hoad of Yahoo! Sports on Saturday, the Columbus Blue Jackets area set to hire Mike Babcock of Manitouwadge, Ontario as their new head coach. However, the hiring will not be made official until the end of the month as Babcock is still under contract with the Toronto Maple Leafs.
The Blue Jackets will be the fourth National Hockey League team Babcock has coached. He was previously with the Mighty Ducks of Anaheim from 2002 to 2004, the Detroit Red Wings from 2005 to 2015, and the Toronto Maple Leafs from 2015 to 2020. In 1301 regular season games, Babcock has a record of 700 wins, 418 regulation losses, 19 ties and 164 losses in extra time. Babcock's 700 wins are 12th all-time in National Hockey League history.
Babcock won a Stanley Cup with the Red Wings in 2008. In six games, the Red Wings beat the Pittsburgh Penguins.
However, it is not just the National Hockey League where Babcock has had coaching success. He has won two gold medals for Canada in men's hockey at the Olympic Winter Games (2010 Olympic Winter Games in Vancouver and the 2014 Olympic Winter Olympic Winter Games in Sochi), a gold medal at the 2016 World Cup of Hockey in Toronto, a gold medal at the 1997 World Junior Hockey Championships in Geneva, Switzerland, and a gold medal at the 2004 World Men's Hockey Championship in Prague, Czech Republic. Babcock has also won an Alberta Colleges Athletic Conference title with the Red Deer College Kings in 1989, and a University Cup with the University of Lethbridge Pronghorns in 1994.