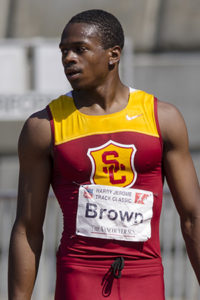 Canadian Olympic silver medalist Aaron Brown won a bronze medal in a men's 200 metre Diamond League event in Florence, Italy on Friday. It was Brown's second Diamond League event of the season as he previously won a bronze medal in Doha, Qatar on May 5.
On Friday, Brown had a time of 20.31 seconds. He reached the podium by a tenth of a second as Filippo Tortu of Italy was in fourth place with a time of 20.41 seconds. Erriyon Knighton of the United States won the gold medal with a time of 19.89 seconds and Jereem Richards of Trinidad and Tobago won the silver medal with a time of 20.28 seconds.
It was a strong start of the race for Brown, who seemed to be in top form in the early part of the race. However, Knighton had and electrifying final 100 metres of the race, and Richards passed Brown near the finish line. It should be noted that Knighton is only 19 years old.
With the win, Brown now leads the Diamond League Standings for 2023 with 12 points. Knighton and Fred Kerley of the United States are each in second place with eight points.
Brown won his Olympic silver medal at the 2020 Olympic Games in Tokyo in 2021 in the men's 4×100 metres. He won alongside Andre de Grasse of Toronto, Ontario, Jerome Blake of Kelowna, British Columbia, and Brandon Rodney of Etobicoke, Ontario.