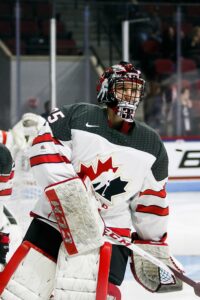 Team Canada has reached the semifinals of the 2022 Women's World Hockey Championship in Herning, Denmark. On Thursday in the fourth of four quarterfinal matches, Canada defeated Sweden 3-0.
Despite the low-scoring contest, it was a dominant game from a territorial perspective for Canada. Team Canada outshot Sweden 57-9.
Sarah Potomak of Aldergrove, British Columbia led Canada in scoring with two points, as she had one goal and one assist. The other Canadian goal scorers were Canadian Olympic gold medalists Jocelyne Larocque of Ste. Anne, Manitoba and Erin Ambrose of Keswick, Ontario. Larocque and Ambrose won a gold medal for Canada at the 2022 Olympic Winter Games in Beijing, while Larocque won a gold medal at the 2014 Olympic Winter Games in Sochi. It is interesting that Larocque and Ambrose are both defensemen.
In net, Canadian Olympic gold medalist Ann-Renee Desbiens of La Mulberry, Quebec picked up the shutout. This was Desbiens's fifth shutout at the World Women's Hockey Championships. Desbiens's Olympic gold medal came at the 2022 Olympic Winter Games in Beijing.
In the other quarterfinals on Thursday, Switzerland beat Japan 2-1 in a shootout, the United States trounced Hungary 12-1 and the Czech Republic beat Finland 2-1 in overtime. In the semifinals, Canada plays Switzerland and the United States plays the Czech Republic.