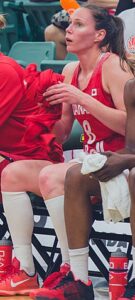 According to Myles Dichter of CBC Sports on Tuesday, Kim Gaucher of Surrey, British Columbia was named the head coach of the Canadian women's 3×3 basketball team this past week. Gaucher was on the Canadian women's national basketball team that won the gold medal at the 2015 Pan American Games in Toronto. She also won gold at the 2015 FIBA Americas Championship in Edmonton, Alberta, and represented Canada at there Olympic Games–the 2012 Olympic Games in London, the 2016 Olympic Games in Rio de Janeiro, and the 2020 Olympic Games in Tokyo in 2021.
A shooting guard, Gaucher played three seasons in the WNBA with the Sacramento Monarchs. After five years playing at the National Collegiate Athletic Association level at the University of Utah from 2002 to 2006, she played three seasons in Sacramento from 2006 to 2008 once being the Monarchs's first pick, 13th overall, in the 2006 WNBA Draft.
The Canadian women's 3×3 basketball team is one of the strongest teams in the world and will be a gold medal contender for the 2024 Olympic Games in Paris. The Canadian team of sisters Katherine and Michelle Plouffe of Edmonton, Alberta, as well as Kacie Bosch of Lethbridge, Alberta and Paige Crozon of Humboldt, Saskatchewan, finished second at the 2022 FIBA 3X3 World Cup in Antwerp, Belgium, as Canada placed only behind France.