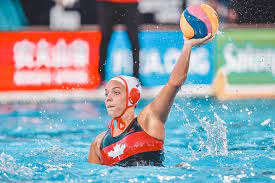 Team Canada is in the semifinals in women's water polo at the Pan American Games on Friday. In the quarterfinals on Thursday, Canada trounced Chile 33-2.
Verica Bakoc of Toronto, Ontario led Canada with seven goals. Elyse Lemay-Lavoie of Montreal, Quebec had six goals, Axelle Crevier of Montreal and Emma Wright of Lindsay, Ontario each had four goals, while four Canadian women's water polo players had a hat trick. They were Blaire McDowell of Regina, Saskatchewan, Serena Browne and Floranne Carroll of Montreal, and Hayley McKelvey of Delta, British Columbia.
Canada will play Brazil in the semifinals on Friday. Brazil beat Cuba 12-10 in the quarterfinals on Thursday.
The United States will play Argentina in the other semifinal. In the quarterfinals, the United States pounded Mexico 32-1, while Argentina beat Puerto Rico 13-11. In the American win over Mexico, like the Canadian win over Chile, the leading scorer had seven goals, as Maggie Steffens was the star.
There was another interesting similarity between the Canadian and American victories. In the Canadian and American wins, they reached double digits in scoring for a single quarter twice. Canada had 10 goals in the third quarter and 10 goals in the fourth quarter. The United States had 10 goals in the first quarter and 11 goals in the second quarter. The winner of the women's water polo tournament at the Pan American Games will participate at the 2024 Olympic Games in Paris.