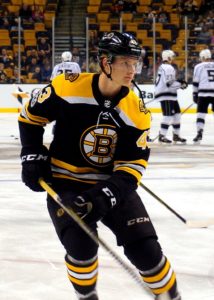 According to Keagan Stiefel of NESN on Tuesday, the Boston Bruins are bringing back forward Danton Heinen of Langley, British Columbia. After playing four seasons with the Bruins from 2016 to 2020, Heinen signed a one-year deal worth $775,000. He is an asset to the Bruins because he can play centre and left wing.
Since 2020, Heinen has played for two other National Hockey League teams. He was with the Anaheim Ducks from 2020 to 2021, and the Pittsburgh Penguins from 2021 to 2023.
Last season in Pittsburgh, Heinen had eight goals and 14 assists for 22 points. He was a -5 with 12 penalty minutes, two power-play points, 96 shots on goal, two faceoff wins, 26 blocked shots, 76 hits, 24 takeaways, and 16 giveaways. Heinen's two faceoff wins and two power-play points came in Penguins wins. Heinen's faceoff wins came in a 6-2 Penguins win over the Arizona Coyotes on October 13, 2022, and in a 4-3 Penguins win over the Buffalo Sabres on December 9, 2022.
Heinen's power play goal came from Canadian Olympic gold medalist Jeff Carter of London, Ontario and Jason Zucker at 4:11 of the second period in a 6-2 Penguins win over the Tampa Bay Lightning on October 15, 2022. At the time, the Penguins went up 2-1. Carter won a gold medal for Canada in men's hockey at the 2014 Olympic Winter Games in Sochi. Heineken's power play assist came on a goal by Jeff Petry at 4:13 of the second period in a 6-1 Penguins win over the Los Angeles Kings on October 20, 2022. At the time, the Penguins went up 4-0.