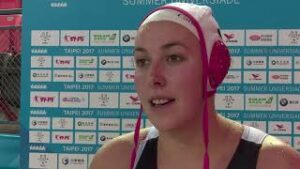 Team Canada is playoff bound at the 2023 Women's World Water Polo Championships in Fukuoka, Japan. On Thursday, Canada defeated Japan 17-12. With the victory, Canada improved to a record of two wins and one loss and finished in second place in Group D.
Elyse Lemay-Lavoie of Montreal, Quebec led Canada with five goals. Axelle Crevier of Montreal and Hayley McKelvey of Delta, British Columbia also registered hat tricks as Crevier had four goals and McKelvey scored thrice. Canadians with one goal games were Serena Browne of Montreal, Kindred Paul of Spruce Grove, Alberta and Shae la Roche of Calgary, Alberta.
Canada will now play South Africa in the first round of the championship bracket. Other first round playoff matches will feature Italy versus New Zealand, Australia will play Israel and France will play Spain. The four nations that won their group and have qualified for the quarterfinals are the United States, Netherlands, Greece and Hungary. The top three teams in each group qualified for the playoffs.
On Friday, Team Canada can finish in second place in Group B at the World Men's Water Polo Championships in Fukuoka with a win over France. Canada is at one win and one loss. So far they have beaten China 13-10, and lost to Italy 24-6.