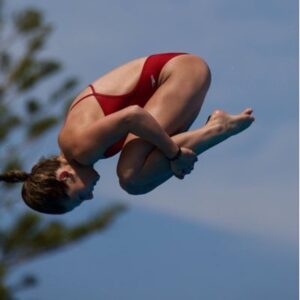 Caeli McKay of Calgary, Alberta is a medalist at the World Championship for the first time in her career. On Wednesday, she won the bronze medal in the women's 10 metre platform diving competition at the 2023 World Aquatics Championships in Fukuoka, Japan.
McKay had a score in the final of 340.25 points. She reached the podium by 14.9 points over Gabriela Agundez of Mexico, who finished in fourth place with a score of 325.35 points. Yuxi Chen of China won the gold medal with a score of 457.85 points and Hongchan Quan of China won the silver medal with a score of 340.25 points.
After three dives, McKay had put herself into medal contention. She narrowly led Agundez by two tenths of a point. McKay had 218.9 points and Agundez had 218.7 points. However, McKay struggled with her fourth dive as she only posted a score of 44.55 points. That was the third worst score among all fourth dives in the final. However, McKay showed exceptional resiliency and put together a phenomenal fifth round dive score of 76.8 points.
There is no doubt that there were two separate competitions taking place. Chen and Quan were battling for gold, and the rest of the field battled for bronze. Chen was the reigning gold medalist from the 2022 World Aquatics Swimming Championships in Budapest, and Quan was the reigning gold medalist from the 2020 Olympic Games in Tokyo in 2021. When it comes to the sport of diving, China is simply the most dominant nation and is in a class by themselves.
This was Canada's first medal at the 2023 World Aquatics Championships. The bronze medal for McKay will give her confidence as she prepares for the 2024 Olympic Games in Paris.