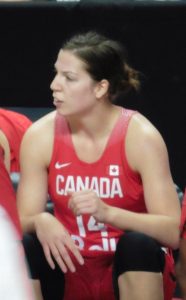 Team Canada placed in third place at the Women's 3×3 Basketball World Series in Bordeaux, France on Thursday. The Canadian team comprised of Kacie Bosch of Lethbridge, Alberta, Paige Crozon of Humboldt, Saskatchewan, Katherine Plouffe of Edmonton, Alberta, and Jamie Scott.
Canada won Pool A on Wednesday with wins over Hungary and France. In Canada's 21-11 win over Hungary on Wednesday, Plouffe led Canada with nine points and eight rebounds. Plouffe, Bosch, Crozon, and Scott each had one key assist in the Canadian win. In Canada's 18-16 win over France, Plouffe led Canada with nine points, nine rebounds and three key assists.
On Thursday, Canada defeated Azerbaijan 19-15 in the quarterfinals. Crozon led Canada with eight points and Plouffe led Canada with seven rebounds and two key assists.
In the semifinals, Canada lost 22-13 to China. In the other semifinal, a second French team defeated Germany 19-12. Then int the gold medal game, France beat China 16-13.
The bronze medal for Canada on Thursday will give Bosch, Crozon, Plouffe and Scott confidence as they prepare for the 2024 Olympic Games in Paris. The next Women's 3×3 Basketball World Series will be in Canada as Edmonton, Alberta will be the host venue from July 29-30. Expect Michelle Plouffe of Edmonton to be on the Canadian at that time.