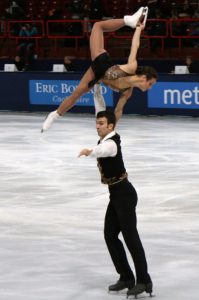 Team Canada is leading after day one of the team figure skating competition at the 2018 Olympic Winter Games in Pyeongchang. It was an outstanding performance on Friday from Meagan Duhamel of Sudbury, Ontario and Eric Radford of Winnipeg, Manitoba. Duhamel and Radford posted a score of 76.57 points in the pairs short program competition and finished in second place behind Evgenia Tarasova and Vladimir Morozov of the Olympic Athletes from Russia.
The reason why Canada is ahead of the Olympic Athletes from Russia however is because Russian men's singles figure skater Mikhail Kolyada struggled mightily. Kolyada fell early and never seemed to regain his confidence and finished eighth out of 10 skaters.
It wasn't a great skate for Patrick Chan of Ottawa, Ontario at all as he fell twice, but Chan's artistic excellence was very evident. We are also in a period of figure skating where skaters are credited for attempting more difficult jumps and falling than under rotating their jumps. This is the primary reason why Chan finished third after the short program over not only Kolyada, but American Nathan Chen as well.
The bottom line is Canada has an excellent chance of winning Olympic gold here. Only one day is complete but Canadian figure skating fans need to be ecstatic that Canada has 17 points, and leading the United States by three points (14 points) and Japan and the Olympic Athletes from Russia (13 points).