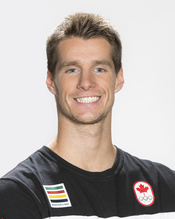 Canada has won its first two Olympic medals at the 2018 Olympic Winter Games in Pyeongchang. Max Parrot of Cowansville, Quebec won the Olympic silver medal and Mark McMorris of Regina, Saskatchewan won the Olympic bronze medal in the men's slopestyle snowboarding.
Parrot saved his best performance for the final jump of the competition. He had 86 points to reach the middle step of the podium. McMorris played it rather safe. He could have tried to execute a series of much more difficult tricks, but elected to be a little bit more cautious and put together a run that gave him a score of 85.2 points. It was the second consecutive Olympic Winter Games that McMorris won slopestyle snowboarding bronze as he finished third with broken ribs at the 2014 Olympic Winter Games in Sochi.
Parrot reached the podium by 4.99 points over Staale Sandbech of Norway, who had 81.01 points. McMorris had 4.19 more points than Sandbech.
Redmond Gerard of the United States won the gold medal with 87.16 points. Interestingly, the United States and Canada earned their first Olympic medal at the 2018 Olympic Winter Games in Pyeongchang in the same Olympic event. Canada has won nine medals in the history of the Olympic Winter Games in men's snowboarding, but it is the first time that two Canadians landed on the same podium in an Olympic snowboarding event.