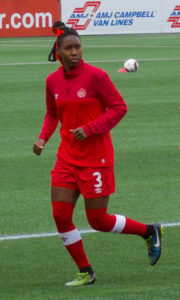 Team Canada is in a first place tie with Team Netherlands in Group E action at the 2019 FIFA Women's World Cup of Soccer from France. On Tuesday, Kadeisha Buchanan of Toronto, Ontario scored in the 45th minute in a 1-0 Canada win over Cameroon.
Buchanan headed the soccer ball into the net from a corner kick by Janine Beckie of Regina, Saskatchewan. It was Buchanan's fourth international goal of her career.
At the 2015 Women's World Cup in Canada, Buchanan was named the best young player award. The award is presented to the best player 21 years of age or younger at every Women's World Cup. Buchanan was also named to the FIFA All-Star Team and FIFA Dream Team as one of the top defenders in the entire tournament. Interestingly, Buchanan was selected to the all-star team and dream team alongside defender Wendi Richard of France four years ago. Richard had a brilliant opening of the 2019 Women's World Cup when she scored twice in a 4-0 France win over South Korea on Friday.
In other Group E action of the 2019 Women's World Cup, the Netherlands beat New Zealand 1-0. Canada and the Netherlands are now tied for first in Group E with a record of one win and zero losses and a total of three points. New Zealand will be Canada's next opponent on Saturday. Canada will play New Zealand at the Stade des Alpes in Grenoble.