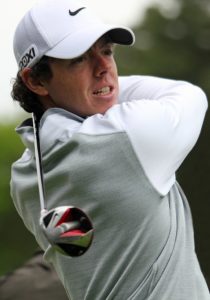 Rory McIlroy became the first golfer ever from Northern Ireland to win the Royal Bank of Canada Canadian Open on Sunday. In shooting a -22 at the Hamilton Golf and Country Club, McIlroy beat Shane Lowry of Ireland and Webb Simpson of the United States by seven strokes. Lowry and Simpson were in a tie for second place at -15.
In his four rounds of golf. McIlroy got better each day. He shot a three-under par 67 in round one on Thursday, a four-under par 66 in round two on Friday, a six-under par 64 in round three on Saturday and a sizzling nine-under par 61 on Sunday.
McIlroy becomes the ninth golfer from Great Britain to win the Canadian men's golf championship. Jack Oke of England won in 1904. Percy Barrett of England won in 1907. George Sargent of England won in 1912. James Douglas Edgar of England won in 1919 and 1920. Clarence Hackney of Scotland won in 1923. Macdonald Smith of Scotland won in 1926. Harry Cooper of England won in 1932 and 1937. Peter Oosterhuis of England won on 1981.
The world's best golfers will now travel from Hamilton, Ontario to Pebble Beach, California for the 2019 United States Open which starts Thursday. There are two Canadians in the field. Nick Taylor of Winnipeg, Manitoba and 2003 Masters champion Mike Weir of Sarnia, Ontario qualified through a sectional qualifying event in Dallas, Texas on May 20.