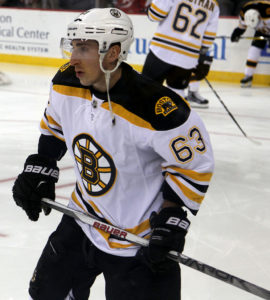 Brad Marchand of Halifax, Nova Scotia has helped keep the Boston Bruins alive in the 2019 National Hockey League Stanley Cup Finals. On Sunday, Marchand was one of two Bruins to register a multi-point game (David Pastrnak was the other) as he had one goal and one assist for two points in a 5-1 Bruins win over the St. Louis Blues at the Enterprise Center in St. Louis, Missouri, in game six of the Stanley Cup Final. With the win, the Bruins and Blues are now tied in their best out of seven series at three games apiece.
Marchand opened the scoring with the only first period goal of the game at 8:40 on the power play. Torey Krug and Pastrnak picked up the assists.
Marchand then picked up his second point with 4:54 left in the third period with an assist on a goal by Pastrnak. Sean Kuraly notched the other assist. The goal at the time put the Bruins up 4-1. In the 2019 Stanley Cup Playoffs, Marchand is the co-leader on the Bruins in goals with nine (tied with Pastrnak) and power play points with 12 (tied with Krug). He is also the Bruins playoff leader in assists (14) and points (23). Game seven of the Stanley Cup Finals returns to the Toronto Dominion Garden in Boston, Massachusetts on Wednesday.
In other NHL news, Jeff Skinner of Markham, Ontario re-signed with the Buffalo Sabres on Friday to an eight year contract worth $72 million. Skinner led the Sabres in goals in 2018-19 with 40 and tied a career high with 63 points.