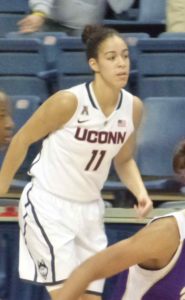 Team Canada has improved to a record of two wins and zero losses at the 2018 Women's Basketball World Cup in San Cristobal de La Laguna, Spain. On Sunday, Canada trounced South Korea 82-63 and is currently tied with France for first place in Group A.
Kia Nurse of Hamilton, Ontario had a marvelous game for Team Canada. She scored 29 points and was solid from beyond the arc. Nurse successfully shot six of 10 baskets from three point range. Miranda Ayim of Chatham, Ontario also reached double digits in scoring as she had 13 points.
Ayim, Miah-Marie Langlois of Windsor, Ontario, Nayo Raincock-Ekunwe of Toronto, Ontario and Michelle Plouffe of Edmonton, Alberta all led Team Canada with six rebounds. Langlois also led Canada with six assists.
Team Canada had a very strong first half against South Korea. They outscored the Koreans 45-24 over the first 20 minutes of action.
In other Group A action, France had their hands full with Greece before coming out with a narrow 75-71 win. Canada will next play France on Tuesday for first place in the Group. The winner between South Korea and Greece on Tuesday will advance to the qualification round, while the loser will be eliminated.
In other world championship action on Sunday, Canada was eliminated from the World Men's Volleyball Championships in Italy and Bulgaria despite beating Bulgaria 25-19, 25-14, 21-25, 19-25, 15-10. Team Canada improved to an overall record of five wins and three losses, but were not among the top two teams to finish second among the four pools.