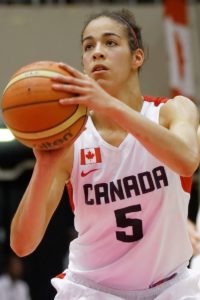 Team Canada just made their path to qualify for the 2020 Olympic Games in Tokyo in women's basketball a lot easier. On Thursday, Canada beat Belgium 61-56 in the FIBA Women's Olympic Qualifying Tournament in Ostend, Belgium. With the win, Canada just needs to beat Sweden on Saturday to qualify for the Olympic Games.
In the Canadian win, Kia Nurse of Hamilton, Ontario led Canada in scoring with 19 points, three assists and three steals. Bridget Carleton of Chatham, Ontario also led Canada in steals with three, and was Canada's co-leader in rebounds with six. Carleton was tied in rebounds with Nayo Raincock-Ekunwe of Toronto, Ontario, who also had six boards and led Canada with a +19.
Nurse was one of two Canadians to reach double digits in points. The other was center Kayla Alexander of Milton, Ontario, who had 12 points coming off the bench.
Nurse, Carleton, Raincock-Ekunwe and Alexander are all in the WNBA at the moment. Nurse and Raincock-Ekunwe are teammates with the New York Liberty. Alexander is with the Chicago Sky and Carleton is with the Minnesota Lynx.
One area in Nurse's game where improvements may be needed is in her overall shot selection. Even though she led Team Canada in scoring, there were times she may not have taken the best shot possible. She only connected on five of 18 field goals for a percent of 27.8%. It would be good to see that percentage be closer to 40%.
In other action, Japan beat Sweden 75-54. Japan has already qualified for the Olympic Games in women's basketball and is using the tournament as a tuneup.