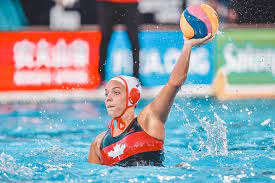 Team Canada won their first game in women's water polo at the 2023 Pan American Games in Santiago, Chile. They defeated Argentina 14-9 on Monday. The Pan American Games women's water polo tournament has added significance because it is an Olympic qualifier for the 2024 Olympic Games in Paris.
The top Canadian player was Verica Bakoc of Toronto, Ontario, who had four goals. Three other Canadians had a multi-goal game as Elyse Lemay-Lavoie of Montreal, Quebec scored thrice, while Axelle Crevier of Montreal and Hayley McKelvey of Delta, British Columbia each scored twice. Canadians with one goal were Emma Wright of Lindsay, Ontario, Serena Browne of Montreal. and Kindred Paul of Spruce Grove, Alberta.
Canada's most dominant quarter in the contest was the second quarter, as they outscored Argentina 6-1. Heading into the half, they took a commanding 9-3 lead. Canada scored their 14 goals on 31 shots on goal.
The Canadians are tied for first base in Group A with Cuba. The Cubans narrowly beat Mexico 14-11. In Group B, the United States clobbered Chile 35-0, and Brazil beat Puerto Rico 19-7. It should be noted that the Group stage is more like a seeding round, as all eight teams qualify for the quarterfinals, which takes place on Thursday. The semifinals are on Friday, and the final is on Saturday.