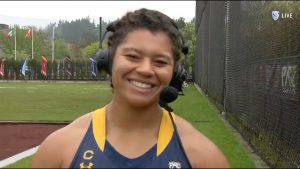 Camryn Rogers of Richmond, British Columbia has once again set the Canadian record in the women's hammer throw. According to Yuri Coghe of CBC Sports on Saturday, Rogers had a throw of 78.62 metres to win the gold medal at the United States of America Track and Field Los Angeles Grand Prix on Friday.
Rogers earned a medal by 5.39 metres over Janee Kassanavoid of the United States, who had 73.23 metres in fourth place. Brooke Andersen of the United States won the silver medal with a throw of 76.06 metres. DeAnna Price of the United States finished in fourth place with a throw of 75.89 metres.
The previous Canadian record was 77.84 metres which Rogers set at the Mount San Antonio College Relays in Walnut, California on April 15. The throw of 78.62 metres is the fifth longest women's hammer throw of all-time. The four longer throws were from Anita Wlodarczyk of Poland (82.98 metres), DeAnna Price of the United States (80.31 metres), Andersen (80.17 metres), and Betty Heidler of Germany (79.42 metres).
Canada won two more medals in the Los Angeles Grand Prix. Alysha Newman of London, Ontario won silver in the women's pole vault and Ethan Katzberg of Nanaimo, British Columbia won bronze in the men's hammer throw. The national record for Rogers will give her confidence as she prepares for the 2024 Olympic Games in Paris.