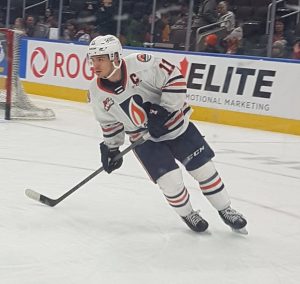 In a dominant, one-sided contest, the Kamloops Blazers clobbered the Peterborough Petes 10-2 at the 2023 Memorial Cup at the Sandman Centre in Kamloops, British Columbia on Sunday. With the win, Kamloops improved to a record of one win and one loss, while Peterborough dropped to zero wins and two losses. It was actually an outstanding bounce back effort for Kamloops, as they lost 8-3 to the Quebec Remparts on Friday.
Seven Blazers had a multi-point game. Dallas Stars prospect and centre Logan Stankoven of Kamloops, British Columbia led the team with five points as he had one goal and four assists. Another Stars prospect, right winger Matthew Seminoff of Coquitlam, British Columbia, had two goals and one assist for three points. Right winger Connor Levis of Vancouver, British Columbia, and center Jakub Demek each had one goal and two assists, Washington Capitals prospect and centre Ryan Hofer of Winnipeg, Manitoba had one goal and one assist, defenseman and Anaheim Ducks prospect Olen Zellweger of Calgary, Alberta had two assists, and left winger and Minnesota Wild prospect Caedan Bankier of Surrey, British Columbia, also had two assists.
Four more Blazers scored. They were defenseman Ryan Michael of Langley, British Columbia, Toronto Maple Leafs prospect and centre Fraser Minten of Vancouver, British Columbia, right winger Dylan Sydor of Kamloops, British Columbia, and right winger Ashton Ferster of Shellbrook, Saskatchewan.
Kamloops next plays Seattle on Wednesday. Peterborough plays Quebec on Tuesday. Monday's game will be the two undefeated teams of Seattle and Quebec. Both the Thunderbirds and Remparts have a record of 1-0.