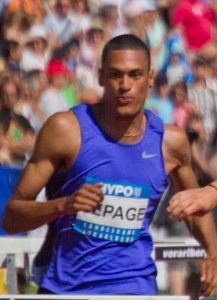 It was a great weekend for Canadian decathlon as Pierce LePage of Whitby, Ontario won the gold medal and Canadian Olympic gold medalist Damian Warner of London, Ontario won the silver medal at the 2023 Hypomeeting in Gotzis, Austria. LePage won the gold medal with 8700 points and Warner won the silver medal with 8619 points.
LePage earned a medal by 297 points and Warner earned a medal by 216 points over Karel Tilga of Estonia who had 8403 points in fourth place. Sander Skotheim of Norway won the bronze medal with 8590 points.
Warner won six consecutive Hypomeeting events, but was unable to beat his countryman on the weekend. LePage had a 100 metre time of 10.28 seconds, long jump of 7.57 metres, shot put throw of 15.05 metres, high jump of 2.03 metres, 400 metre run of 48.01 seconds, 110 metre hurdle time of 13.87 seconds, discus throw of 49.34 metres, pole vault throw of five metres, javelin throw of 63.09 metres, and 1500 metre run of four minutes, and 45.74 seconds.
LePage's 8700 points was one point off his career best of 8701 points which he set when he won the silver medal at the 2022 World Track and Field Championships in Eugene, Oregon. Warner won the gold medal in men's decathlon at the 2020 Olympic Games in Tokyo in 2021 and the bronze medal in men's decathlon at the 2016 Olympic Games in Rio de Janeiro. The gold medal for LePage and the silver medal for Warner will give them confidence as they prepare for the 2024 Olympic Games in Paris.