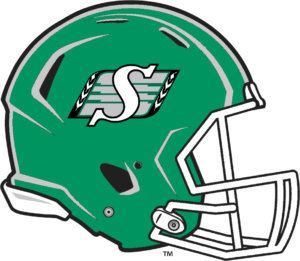 Cameron Judge of Montreal, Quebec came up with a huge interception for the Saskatchewan Roughriders on Saturday. Judge, an outside linebacker, had a 29 yard interception for a touchdown off of Eskimos third string quarterback Troy Williams in a 23-13 Roughriders win over the Edmonton Eskimos.
With the victory, the Roughriders clinched first place in the Western Division. Saskatchewan won their 13th game, the most they have had in a single season since they won 14 games in 1970.
This was Judge's second interception of the season. He previously had an interception in Saskatchewan's 41-16 win over the Toronto Argonauts on September 28.
Judge was one of two Canadians to get a touchdown for the winning team in a meaningful game on Saturday. In Calgary's 21-16 win over the British Columbia Lions, Hergy Mayala of Montreal, Quebec had a nine yard touchdown catch from Bo Levi Mitchell with 3:37 left in the fourth quarter, which made the score 20-10 at the time. Mayala finished the game with five catches for 103 yards.
The Roughriders will now host either the Calgary Stampeders or the Winnipeg Blue Bombers in the Western Final on November 17. Calgary plays Winnipeg in the Western Semifinal on November 10.
In the Eastern Semifinal on November 10, the Montreal Alouettes are hosting the Edmonton Eskimos. The winner will play the Hamilton Tiger-Cats in the Eastern Final on November 17.