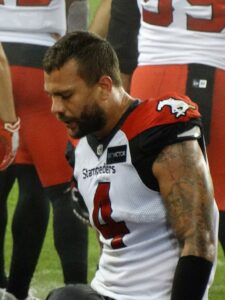 Calgary Stampeders linebacker Cameron Judge of Montreal, Quebec and Montreal Alouettes wide receiver Tyson Philpot of Delta, British Columbia had touchdowns for winning teams in the 20th week of the 2023 Canadian Football League regular season. Judge had a 33 yard interception return in a 26-19 Stampeders win over the Saskatchewan Roughriders on Friday and Philpot had an eight yard touchdown catch from quarterback Cody Fajardo in a 35-21 Alouettes win over the Edmonton Elks on Saturday.
Judge's pick six came with one minute and 30 seconds left in the third quarter. At the time, he tied the game at 16 points apiece. It was Judge's eighth career CFL touchdown. On the season in 16 games, Judge has 84 defensive tackles, four interceptions, two sacks, one forced fumble, and one special teams tackle. With the win, the Stampeders kept their playoff hopes alive.
Philpot's touchdown came with three minutes and 29 seconds left in the third quarter. It put the Alouettes up 21-9. Philpot had four catches for 38 yards in the contest. In 2023, he has 45 catches for 516 receiving yards and four touchdowns. With the win, the Alouettes improved to a record of 10 wins and seven losses for 20 points. They are in second place in the Eastern Division in the CFL standings.